Papers Please Download
Paper Please is famous single player game that has been published for various platforms such as MacOS (OS X), Linux, Windows, iOS(iPad), PS Vita,…
Papers Please Steam
Congratulations.
The October labor lottery is complete. Your name was pulled.
For immediate placement, report to the Ministry of Admission at Grestin Border Checkpoint.
An apartment will be provided for you and your family in East Grestin. Expect a Class-8 dwelling.
Glory to Arstotzka.
Papers, Please is provided via Steam key for Windows, Mac, and Linux and is also provided DRM-Free for Windows, Mac, and Linux.
All Reviews: Overwhelmingly Positive
Developer: Lucas Pope
Publisher: 3909
Release Date:Aug 8, 2013
System Requirements (Windows)
OS: Windows XP or later
Processor: 1.5 GHz Core2Duo
Memory: 2 GB RAM
Graphics: OpenGL 1.4 or better
Storage: 100 MB available space
Additional Notes: Minimum 1280×720 screen resolution
System Requirements (Mac OS X)
OS: OSX Mountain Lion (10.8)
Processor: 1.5 GHz Core2Duo
Memory: 2 GB RAM
Graphics: OpenGL 1.4 or better
Storage: 100 MB available space
Additional Notes: Minimum 1280×720 screen resolution
System Requirements (SteamOS + Linux)
Processor: 1.5 GHz Core2Duo
Memory: 2 GB RAM
Storage: 100 MB available space
Additional Notes: Minimum 1280×720 screen resolution
Papers Please GOG
Changelog: 1.0.41
This version features an upgraded engine (from old busted NME to hot new OpenFL).
Removed more inappropriate immigrant names
Fixed stamp dates
Fixed valid work pass seals to include all 4 listed in rulebook
Fixed some incorrectly assigned dialog
Restored flashing clock face near day end
Fixed some issues with valid aliases giving citations
Fixed Endless timed mode to give +1 point and +5 seconds when detaining
Papers Please Android
In 2014, when questioned about a possible Android port, the developer (Lucas Pope) said the following:
Originally posted by http://www.pockettactics.com/articles/glory-arstotzka-lucas-pope-talks-us-papers-please-coming-ipad-tomorrow/:
"I originally wanted to bring it to Android and iOS at the same time. When it came to actually making that happen though, I was overwhelmed by the amount of work required to support the many, many Android tablets out there. I'm also worried that the market on Android won't be happy about the game's pricing, and an ad-supported version is out of the question. I'm not ruling out an Android tablet version but unfortunately I can't commit to it at the moment."
"When asked on Twitter (@dukope) about Android, his usual response is "not sure". So I doubt that we'll quickly see this game on Android."
Papers Please is not published for android platforms. In the following link there are similar games to papers please for android: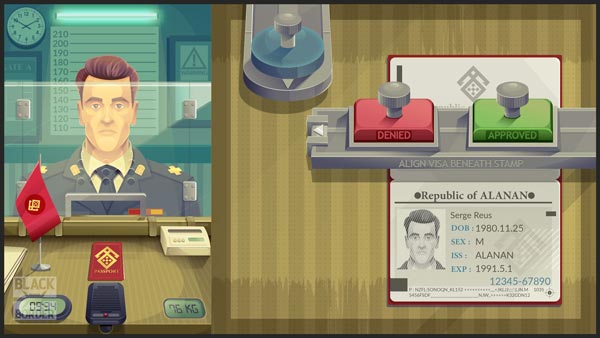 Papers Please iPad
After a small storm of debate over Apple's initial rejection of the app over so-called pornographic content — Papers Please is now available for iPad. Papers, Please come to the iPad on the 12th of December and will be on sale during the weekend of its launch.
Papers, Please, it's one of the most cerebral games I've ever played, so I'm happy it's been on the iPad. Apple initially rejected the app because of some very artful (and not erotic at all) nudity in the game, a testament to the frustrating double standard of Apple when it comes to letting adult content in the iTunes Store, but not the App Store. That said, Papers, Please original Mac version allowed users to choose to censor out the nudity as well, and it feels that developer Lucas Pope himself doesn't think much was lost in the compromise. You can buy Papers, Please for just $7.99 for iPad.
Papers Please iPhone (iOS Mobile Phones)
Papers Please Compatible with iPad, not iPhone Mobile, Because the developer didn't think there was enough real estate on the iPhone to play the game, the reason the game is only for iPad. He tweeted out that it was "tight even on the iPad mini." If that's true, it should be interesting to see how the Vita version is implemented!?
Papers Please is not published for iPhone devices. In the following link there are games like papers please for iOS:
Papers Please PS4 (PS Vita)

Papers, Please is not for PS4, but for PS Vita Lucas Pope clarifies after "confusing" announcement from Sony.
Among the (many) titles shown, one of the more surprising announcements was Papers, Please, the wonderful bureaucratic puzzler that launched a year ago on PC. The way the announcement was delivered, and with Sony focused almost 100% on PS4 at the time, and with hardly any reference to the handheld, led many to think that Papers, Please was being adapted for PS4.
But this is not the case. The game's developer, Lucas Pope, clarified as much on Twitter, saying that Papers, Please is for PS Vita (no specific date yet), and that "Sony's announcement was a little confusing".
And why was the announcement surprising? Because Pope himself made it clear some months ago that he wanted to take a break from his first indie hit, and that the game would be ported to iPad before any console.
It could be that this PS Vita version (to be honest, a much more natural fit than PS4 thanks to the handheld's touch screen) is being developed by another team, and it could even come alongside the iPad version (no news on that one), as Pope focuses on his new project, Return of the Obra Dinn.
Papers Please Switch
"I think Papers Please! would be a great game to play on the go, does anyone know if the devs are looking at the Switch?"
"More than likely that's never going to happen. The developer himself stated that he's sick to death of Papers Please and has no interest in doing anything with the game other than he might go back to the setting of the game to a whole new game. He has officially abandoned it and he's no longer responding to the community for the game. From the looks of it, he's completely done with anything regarding Papers Please."
According to these comments, this game will not released for (Nintendo) Switch platform.