Brain Out Level 157 Walkthrough
In this post you are able to find the hints and the answers for Brain Out Level 157, Which one will you pick it up?

As far as you have came here, it means that you are most probably calling for help. Now our duty is to help you out, we have done all levels on the game and are eager to give you a hand. Everything is clear and complete, but if you need help or if you need to contact us, don't be shy and let us know in the comments. We will be very happy for your feedback.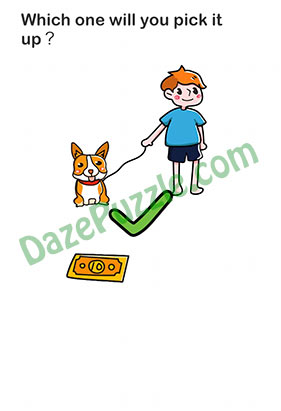 Brain Out Answers and Detailed Walkthrough All Levels [1-221]
Brain Out Level 157 Solution
Tap and Hold onto the boy and the dog with a finger, and the pick up all the money and the bills and become rich.

About Brain Out Game: Brain Out consists of many tricky puzzles that make you think outside the box. Therefore, the game would be a fun way to increase your strategy and logic skills. Brain out is a series of tricky brain teasers that are designed to improve memory, calculation, reaction time, attention to detail and many other important learning skills.
Brain Out Level 157 Video Gameplay Guide
If you need more explanation please watch detailed easy walkthrough in this video :