Brain Find Merry Christmas Level 12 Walkthrough
(scroll down for all levels and video walkthrough)
Brain Find Merry Christmas Level 12 Get the package, complete walkthrough including images, video and the short answer. If you faced a level in brain find Merry Christmas challenge that you can not find out what's the answer, follow us to see the solution. You can find the solution for all level's answers here.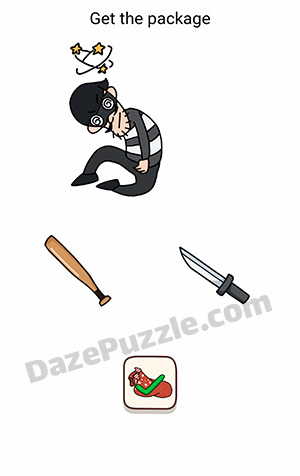 Here's the solution for Brain Find Merry Christmas Level 12:
Answer: Shake your phone to make him confused, then drag the baseball bat to hit his head, now drag the package into the square.

All Answers for Brain Find – Makes you think outside the box :  Brain Find Answers
About Brain Find Game: "Dare to break through with us?! Get ready to be bamboozled with all new mind twisting puzzles! Combine your brain test and discovery for a brain challenge like no other! If you are fan of tricky games, riddles, brain teasers, brain games or any other quiz game, Brain Find is one of the most choicer for you to exercise you brain.".
Watch Brain Find Merry Christmas Level 12 video walkthrough :
if you ever had problem with solutions or anything else, feel free to make us happy with your comments.
You can download and play this popular tricky puzzle game, Brain Find here :
Get It on Google Play Store
Get It on Apple Store