Brain Test 2 Level 6 Smith and Joe Solution (Part 2)
(scroll down for video and all levels answer)
Brain Test 2 Smith and Joe Level 6 (Part 2) They ran out of gas! Find a way to stop these bats, complete walkthrough including images, video and the short answer. If you faced a level in Smith and Joe that you can not find its answer, follow us to see the detailed hints and solutions. You can find the solution for next level, Smith and Joe part 2 level 7 here and all level's answers here.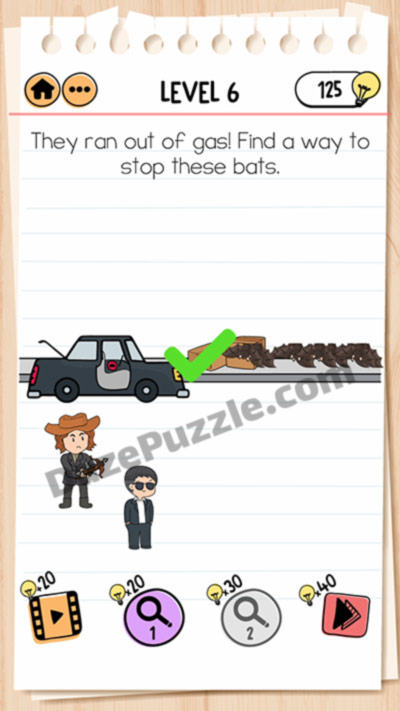 Here's the solution for Brain Test 2 Smith and Joe Level 6 Part 2 :
Answer: Put the gas tank on the trunk and open it to explode the bats!
All Answers for Brain Test 2 Smith and Joe All Parts :  Brain Test 2 Smith and Joe Answers
About Brain Test 2 Game: "With over a zillion downloads, Brain Test: Tricky Puzzles redefined mobile gaming. Now get more of the exhilarating riddles and funny tests with Brain Test 2! Get ready to be bamboozled with all-new mind-twisting puzzles. In this new version, puzzles have stories with colorful characters. Defeat the Lion King with Tom the Cat, cultivate your farm with Emily, hunt monsters with Joe, and ultimately defeat the microbes".
Brain Test 2 consists of many tricky puzzles that make you think outside the box. Therefore, the game brings a new puzzle experience that can be lots of fun and challenging. You can enjoy Brain Test alone in your room, but it can sometimes be even more fun when played with others like friends or family.
If you need more help please watch Smith and Joe Level 6 Part 2 video walkthrough :
All Answers for Brain Test 2 :  Brain Test 2 Answers
Brain Test 2 Smith and Joe (Part 2) Answers All Levels [1-20] :