Braindom Level 264 Walkthrough
(scroll down for all levels and video walkthrough)
Braindom Level 264 Make the elders happy, complete walkthrough including images, video and the short answer. If you faced a level in Braindom that you can not find out what's the answer, follow us to see the solution. You can find the solution for next level, braindom level 265 here and all level's answers here.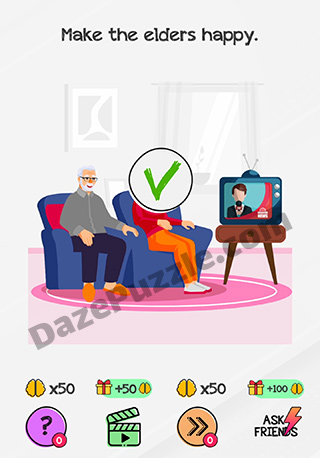 Here's the solution for Braindom Level 264:
Answer: Drag and move the TV icon from top left corner of the screen and put it on the table, now zoom in it to get real.

All Answers for Braindom Game :  Braindom Answers
About Braindom Game: "Enter the word of Braindom: Tricky Puzzles, Easy Games & Brain tests, a word of trivia, quiz, riddle, puzzles and solve them all, show me what you've got! Braindom free games are one of the most popular games amongst mobile games, android games and phone games. Can you beat it and prove you are the smartest? Sure you can since it's an easy-game for all, brain games for kids and logic puzzles for adults."
Braindom is a thought-out game, as you can see this genre of mobile gaming is focused on brain exercising and mind challenging, which means it takes a lot to findout the solution for many levels! if you think you can help us by giving us clues for solving these challenges, feel free to discuss us.
Watch Braindom Level 264 video walkthrough :
if you ever had problem with solutions or anything else, feel free to make us happy with your comments.
You can download and play this popular tricky puzzle game, Braindom here :