In this post you can find updated solutions for all daily puzzles of "Dingbats" puzzle game. Lion studios has recently published their new game. Let's challenge your mind by this new type of crossword puzzle! Here are a lot of new daily puzzles that can challenge your mind and make you think out of the box. If you are stuck on a daily challenge in Dingbats and you can't pass it we are here to help you, just scroll the page down to see all of the answers for this popular game!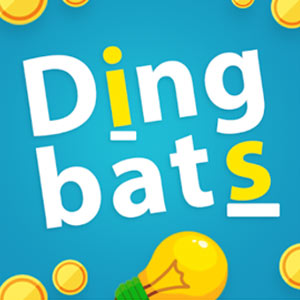 About Dingbats – Word Trivia Game: "Are you a fan of classic word games like boggle, scrabble, or crosswords? Dingbats will fill your need for fun and unique new puzzle challenges! Each level brings you a new and unique 'Dingbat' to solve. No matter if you're a puzzle newbie or a puzzle pro, our Dingbats have something for you. Once you get going, you'll be hooked! Pay close attention to the formation of each of these word-based clues and use your vocabulary and pattern recognition skills to crack the phrase. You will love flexing and improving your brain muscles as you move on to each new level. It is like taking your brain to the gym! There is no other game like it in the world!"
A new amazing Word Trivia game from Lion studios, creators of great mobile games like Love Balls, Happy Glass, Just Draw and the new one Dingbats is here! Let's challenge your mind by this new type of crossword puzzle! There are a lot of different levels here, you should think outside of the box to find out the final words for each level. So you need to improve your vocabulary and warm up your brain!
All Answers for regular levels of Dingbats Here : Dingbats Answers
Dingbats May 2021 Answers All Days :
Dingbats April 2021 Answers All Days :
Dingbats March 2021 Answers All Days :
You can download and play this new trivia mobile game, Dingbats here :