Easy Game Level 374 Walkthrough
(scroll down for all levels and video walkthrough)
Easy Game Level 374 Do a magic trick, complete walkthrough including images, video and the short answer. If you faced a level in easy game that you can not find out what's the answer, follow us to see the solution. You can find the solution for next level, easy game level 375 here and all level's answers here.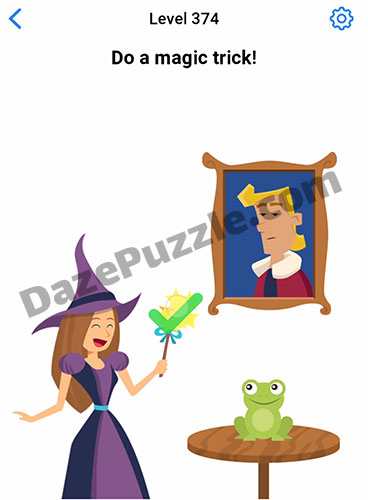 Here's the solution for Easy Game Level 374:
Answer: Drag the man's mustache to the star which is on the frog's head, now put the star on the magic wood, then tap on it 3 times.

All Answers for Easy Game – Brain Test & Tricky Mind Puzzle :  Easy Game Answers
About Easy Game: "Test your IQ and have tons of fun with these tricky brain games! Think outside the box and you'll be a champion! Try this addictive puzzle game, train your mind, and prove that you're the smartest! Easy Game is a challenging and fun thinking game with multiple trivia puzzles and brain teasers. If you like to solve riddles, tricks, sudoku puzzles, word games or word search games, try this free brain test! Train your logic, memory, intelligence, problem-solving skills, and creativity. "
Trust me, it's not as as easy as it's name looks like! Easy Game is about challenging your mind and looking for solution in a trouble that you've never been before; it's about thinking, analysing the situation and solving it like a child who has no idea what's going on in different situations.
If you need more help please watch Easy Game Level 374 video walkthrough :
if you ever had problem with solutions or anything else, feel free to make us happy with your comments.
You can download and play this popular tricky puzzle game, Easy Game here :
Get It on Google Play Store
Get It on Apple Store