Who Is Level 101 Walkthrough
(scroll down for all levels and video walkthrough)
Who Is Level 101 Who should be her valentine, complete walkthrough including images, video and the short answer. If you faced a level in who is that you can not find out what's the answer, follow us to see the solution. You can find the answer for next level, who is level 102 here and all level's answers here.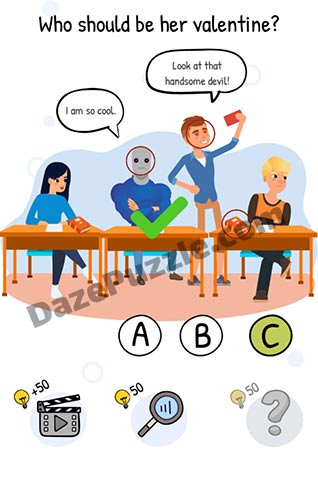 Here's the solution for Who Is Level 101:
Answer: Find three evidence, swipe up on A's face then tap on it, tap on B's face and C's book, so C is her type, choose C.

All Answers for Who is? Brain Teaser & Riddles :  Who Is Answers
About Who Is? Game: "A brand new puzzle and riddle game comes from the makers of fun-favorite Brain Test: Tricky Puzzles and Brain Test 2: Tricky Stories! If you like brain games and mind games then you will relax with this puzzle game and play for your brain training. Who is? Brain Teaser & Riddles is a completely free riddle game, which will challenge your brain and mind. Each level consists of difficult choices, riddles, puzzles, and questions."
Watch Who Is Level 101 video walkthrough :
if you ever had problem with solutions or anything else, feel free to make us happy with your comments.
You can download and play this brand new puzzle game, Who Is? here :
Get It on Google Play Store
Get It on App Store