Brain Blow Level 251 Walkthrough
(scroll down for all levels and video walkthrough)
Brain Blow Level 251 Find the fingerprint you need, complete walkthrough including images, video gameplay and the short answer are given in this post. If you faced a level in Brain Blow that you can not find out what's the answer, follow us to see the detailed walkthrough. You can find the solution for next level, brain blow level 252 here and since the levels maybe different in each device, you can find all levels by image or search the title here.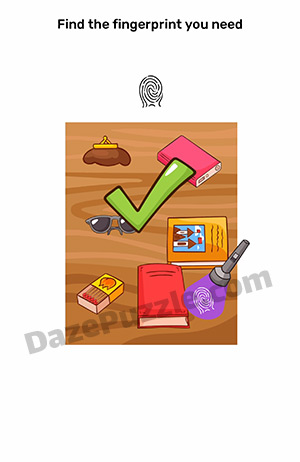 Here's the solution for Brain Blow Level 251:
Answer: Tap on the flash light to turn it on, then drag move it to find our fingerprint which is in right side of the red book, now tap on the fingerprint.

All Answers for Brain Blow Game : Brain Blow Answers
About Brain Blow Game: "Are you a fan of various brain puzzle games and love to challenge yourself? You think you have a genius and non-trivial brain? Then Brain Blow is the game you need! Brain Blow is a completely free brain teaser in which many completely different levels await you."
Another brain game from CASUAL AZUR GAMES studio is here! Let's challenge your mind by playing Brain Blow. There are a lot of different levels here, Playing with numbers, Finding the passwords, Feed the animals, Help the people in difficult situations and more lovable levels. After a while you will find your mind more creative.
Watch Brain Blow Level 251 video walkthrough :
if you ever had problem with solutions or anything else, feel free to make us happy with your comments.
You can download and play this brain teasers puzzle game, Brain Blow here :
Get It on Google Play Store
Get It on App Store