Wordscapes Level 204 (Dusk 12)
Wordscapes Level 204 full answers with image hint and all answers is given on this post. We have solved all the wordscapes Sky pack for you and put the answers here. Hope you enjoy playing this fantastic game. If the game is too difficult for you, don't hesitate to ask questions in the comments. You can find the solution for next level, wordscapes level 205 here and all answers for wordscapes here.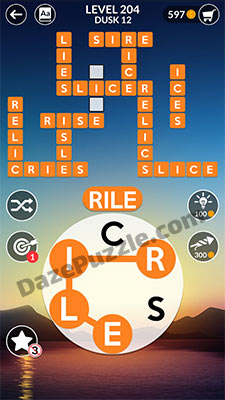 Here are all the words for Wordscapes Level 204:
Answers: ICES, LIES, RICE, RISE, ISLE, RILE, LICE, SIRE, CRIES, SLICE, RELIC, RELICS, SLICER.
Here are all accepted bonus words for Wordscapes Level 204:
Bonus Answers: IRES, LEIS, LIER, RICES, RILES.
Here are all the extra words for Wordscapes Level 204:
Extra Words: ELS, SIR, CEIL, SEI, SLIER, SER, ERICS, SEC, ERIC, RECS, ICER, RIELS, RES, CIRLS, SEIR, ERS, LES, LEI, IRE, CELS, CIRL, LIRE, CEL, CEILS, LIERS, ICERS, CIRE, CIRES, RIEL, REC, SICE, CIELS, CIS, ICE, LIE, SERIC, SRI, LEIRS, LIS, LEIR, CRIS, REI, SEIL, SILE, REIS, SIC, SEL, CLIES, CIEL.
All Answers for Wordscapes Sky Pack Here : Wordscapes Sky Pack Answers
All Answers for Wordscapes Here : Wordscapes Answers
All Answers for Wordscapes Daily Puzzle Here : Wordscapes Daily Puzzle Answers
About Wordscapes Game : "Can you solve all the cross word puzzles? Even with unlimited tries it's a challenge! This text twist of a word game is tremendous brain challenging fun. Enjoy modern word puzzles with the best of word searching, anagrams, and crosswords! You'll never experience a dull moment after you try this addicting word puzzle game! Play this crossword puzzle once and just you won't be able to put it down."
You can download and play this popular word game, Wordscapes here :